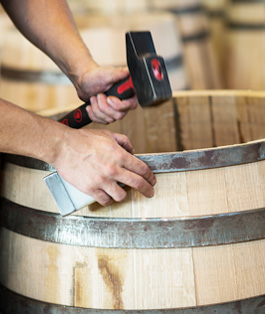 NT Bois site
Watch "The stave mill" video
Our stave mill
The Tonnellerie de Mercurey's oak blending philosophy enables us to deliver barrels of the homogeneity and consistency our customers seek, year after year.
The key to this consistency is our seamless process that starts with Nicolas TARTERET and his team selecting top quality stave wood from a varied range of terroirs and forest types.
The oak is processed and dried in batches at our integrated stave mill in the heart of the forest of Othe in the Champagne region, allowing us full control over quality, drying time and traceability.
Our unique blending process enables us to produce homogeneous selections of consistent quality year after year.